Quillter's Nest Block of the Month
Block of the Months
We still have a couple kits for French Country.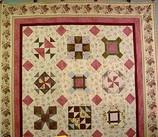 French Country
I have all of the blocks put together for House Hunters. I am planning to applique and add my sashing this weekend. This is a picture of some of the blocks.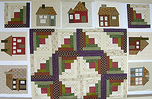 House Hunters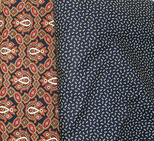 The other picture above is a picture of the sashing and borders.  You will have your choice of sashing, either the one shown here or Moda primitive muslin nave blue. This is a 12 month BOM and is $15.95/mo. I will post a picture on Facebook when I have it completed. We do already have some quilters signed up and have a limited number of kits. Call us, email, us or stop us on the street if you would like to reserve one. This BOM begins May 1.

In September we will begin Freedom Bound block of the month, which honors Hannah Cummings Cotton and her excape from slavery in 1859.  The BOM includes the pattern and over 18 yards of fabric to complete the 97" square quilt. It will be $24.95/month. We are taking sign ups now, and have a limited number of kits.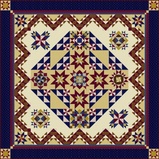 Freedom Bound
As per our policy, if you wish to purchase the whole kit all at once, you will receive a 10% discount on the price.